"Bottles & Other Collectibles" presents...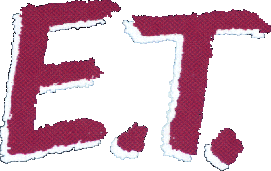 the
*** EXTRA-TERRESTRIAL ***
***Fun Facts and More***

ABOUT the MOVIE
E.T. The Extra-Terrestrial (1982) is the immensely popular magical fantasy movie myth. Its estimated budget of $10 million was easily recouped when it became one of the box-office champion films of all time. Steven Spielberg's very personal, heartwarming sci-fi masterpiece (with special effects produced by George Lucas' Industrial Light and Magic Company) was warmly accepted by film audiences for its portrayal of the love between a young, fatherless suburban boy and a lost, benevolent and homesick visitor (presumably an adult) from another planet who is mistakenly left stranded and orphaned on Earth - three million light years from home.

review written by Tim Dirks
CAST:
Dee Wallace-Stone as Mary
Henry Thomas as Elliott
Peter Coyote as Keys
Robert MacNaughton as Michael
Drew Barrymore as Gertie
K.C. Martel as Greg
Sean Frye as Steve
C. Thomas Howell as Tyler
Pat Walsh as the Voice of E.T.
DIRECTOR: Steven Spielberg

WRITER: Melissa Mathison

PRODUCERS: Steven Spielberg, Kathleen Kennedy and Melissa Mathison

COMPANIES: Universal Pictures and Amblin Entertainment


AWARDS:

OSCARS - Won for Best Original Musical Score, Best Visual Effects, Best Sound Effects Editing, and Best Sound. Also nominated for Best Picture, Best Director, Best Screenplay Written Directly for the Screen, Best Cinematography, and Best Film Editing.

GOLDEN GLOBES: Won for Best Motion Picture - Drama and Best Musical Score - Motion Picture. Also nominated for Best Director - Motion Picture, Best Screenplay - Motion Picture, and Best New Star of the Year in a Motion Picture - Male (Thomas).

FUN FACTS
..Received a standing ovation after the screening at the Cannes Film Festival as an unofficial entry. That was more than any of the "official" entries ever received.

...Harrison Ford was included in the cast as the school principal, but his scenes were cut from the final version because Spielberg thought his presence in the film would be too distracting.

...Harrison Ford's wife, Melissa Mathison, wrote the screenplay.

...For the original video release, cassettes were molded from green plastic to thwart movie pirates.

...Director Spielberg attended in person the White House screening for Ronald and Nancy Reagan.

...Both young female co-stars, Drew Barrymore and Erika Eleniak, would later pose nude for Playboy.

...M & Ms were initially used as E.T.'s favorite food, but the manufacturer asked that they be pulled because they thought the movie would be a flop. Reese's Pieces were substituted and the company's sales soared through the roof with the movie's release.
...ET's face was modeled after poet Carl Sandburg and Albert Einstein
...At the auditions, Henry Thomas thought about the day his dog died to express sadness. Director Steven Spielberg cried, and hired him right on the spot.
...In the Halloween scene, a child dressed as Yoda from Star Wars: Episode V (1980) walks by and catches ET's eye. A bit of composer John Williams' Yoda theme is heard.
...ET's voice was performed by Pat Walsh, with help from Debra Winger.
...ET's communicator actually worked, and was constructed by Henry Feinberg, an expert in Science and Technology interpretation for the public.
...When ET watches John Ford's The Quiet Man (1952) on the family TV, a composer John Williams quotes a few lush bars from the Victor Young score as John Wayne embraces Maureen O'hara.
...When it was test -screened at the Cannes Film Festival as an unofficial entry, it brought the house down, receiving a standing ovation that had eluded most of the official entries.
Biblical Similarities include:
E.T. descends from Heaven to earth.
Elliot's mom is single and her name is Mary.
E.T.'s glowing heart as in The Sacred Heart portraits of Jesus.
E.T.'s overnight vigil in prayer.
E.T.'s power to heal
Facts courtesy of Universal Pictures

***This site designed and created by***

*** BOTTLEBOY ® ***




Copyright © 2000 - 2004
Bottles and Other Collectibles ®
All Rights Reserved

A Bottleboy Production
This site is not affiliated in any way with the Universal Studios Company or any of it's affiliates or subsidiaries. This site and the information contained therein represent the opinion of the webmaster. All images are the property of Universal Studios.
Every attempt is made to give credit where credit is due. If you claim authorship of anything found with The E.T. (the collectibles) website, and it is not appropriately credited to you or your site, please contact the webmaster with your concern to rectify the matter.