"Bottles & Other Collectibles" presents...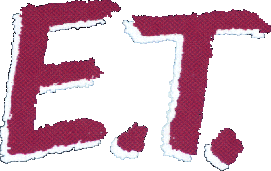 the
*** EXTRA-TERRESTRIAL ***
***About This Site***

| | |
| --- | --- |
| | New picture galleries have been added (3 in all) . Galleries 2 and 3 have slide shows for fast loading and easy viewing of the pages. Enjoy ~~ |
A Few Words on this site and E.T. Collectibles:
* * * This E.T. web site has been around for about 4 years now and is a spin-off site from our parent site, "Bottles and Other Collectibles". The site's hit counter which was registering just over 20-30 hits a day (pre 20th Anniversary re-release) catapulted to 160+ a day!!! With the re-release of the movie, this site was contacted by Universal Pictures and asked if we would run their banner .

* * * This site contains eight Galleries of E.T. Collectibles, two pages containing slideshows of stills from the movie, a sound byte page, fun facts about the film, and also 20th Anniversary released ET Collectibles.
* * * You will find our menu for easy navigation at the bottom of each page. There are also some button links above to the major sections of this site. Please note that individual collectible galleries can only be accessed from our bottom menu at this time.
* * *
The area of Sci-fi collectibles is always "hot". Shows/Movies like STAR-TREK and STAR WARS have helped to create an increased interest in the collectibles. Older baby boomer hits like Lost in Space have also made many of the sci-fi collectibles hot, as aging baby boomers try to capture their youth in gathering up the things that remind them of their childhood. This includes toys, lunch boxes, games, and other things that they had when they were younger.
ET collectibles are a fun collectible and are fairly easy to acquire (pre-re-release of the film) . I was able to obtain some from garage sales and EBAY, a great place to spend money! With the re-release of the film for the 20th Anniversary the value of original E.T. memorabilia has jumped a great deal based on going prices at Ebay.
* * *
If you would care to make a donation to this site to help keep it going, it would be greatly appreciated.
Want to Make a Donation to this site??

View My Guestbook
Sign My Guestbook


***This site designed and created by***

*** BOTTLEBOY ® ***




Copyright © 2000 - 2004
Bottles and Other Collectibles ®
All Rights Reserved

A Bottleboy Production